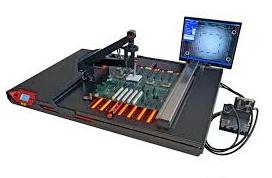 Martin Rework Systems
These state of the art systems allow safe and efficient rework of complex boards containing demanding components.
ALL MARTIN rework stations use the principle of gentle simultaneous heating of electronic assemblies from above and below. Energy input into the surface mount components from above is always provided by hot gas, whereas for heating the printed circuit boards from below, MARTIN offers Hybrid as well as IR heaters, depending on the application.