In the early days of Electronic Assembly, wave-soldering was the common technique for high volume Through Hole Technology (THT). When doubles sided SMD technology was introduced, designers still managed to place only small SMD components on the bottom side of a board. With advanced double waves and chip-waves it was still possible to solder the THT components and those small SMD's in the wave-soldering machine.
Double-sided SMD
However over the years designs became more challenging and most THT components where replaced with SMD's, forcing the designers to place complex large SMD components on both sides of the PCB and use double sides reflow soldering as the preferred technique. Unfortunately, THT components have not completely disappeared because the solder joint offers much more mechanical strength than in SMT. So it's still the most common method for connectors and large heavy components. So we ended up with the challenge of automatically soldering those THT's in combination with double side mounted SMD's.
Pin-in-Paste
A new method that is gaining some popularity is the use of Pin-in-Paste Technology, where THT is mounted and soldered together with the SMD components in a reflow soldering process. However, not all THT components can withstand reflow soldering temperatures and mounting THT components with a Pick & Place machine can be challenging due to the nature of the component dimensions and the way they are delivered.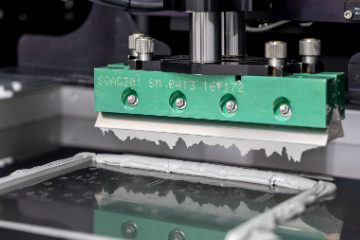 For this reason, the most common technique for automated THT soldering today is Selective Soldering, a technique that uses a local mini-wave through a movable nozzle  to solder each point individual or drag along a row of leads.  This technique has a limitated cycle time and not every solder joint can be accessed without touching or resoldering adjacent SMD components.
These problems can be partially solved by introducing additional solder pots into one machine to reduce cycle time or to allow for different nozzle diameters. However, this will incur additional costs and increase the size of the machine. So not all demanded cycle times can be solved in this way.
The average time to make a proper solder joint is somewhere between 2 and 3 seconds, if solderability is good.  Proper fluxing and sufficient preheating is key to make a good solder joint.  But if your PCB design contains too many THT components, selective soldering can easily become a bottleneck as your output demand increases.

The best of both worlds
For this reason, Vitronics Soltec has developed their ZEVAv high-speed selective soldering machine, which combines the benefits of both worlds. It offers speeds comparable with wave-soldering machines and offers the ability to solder only selective areas on a PCB.  The PCB's are immersed in a specifically designed multi-wave plate with a combination of specially shaped nozzles, located on top of a  large solder pot. By pushing the solder through these different sized nozzles, the machines create mini waves to solder single leads or complete THT's in one go and solder the complete PCB in one dip.
Due to the cost price of these product-specific wave plates, this technique is less interesting for high-mix medium volume production. For those applications, Vitronics Soltec offers their ZEVAm+ machine with a X-Y-Z programmable inductive heated solder pot with a single nozzle. The nozzle is rotatable and PCB's can be held at an angle, allowing the machine to use two different nozzle diameters in  one pot. This can avoid the need for a second soldering pot.
''Non-wettable'' nozzles
A unique feature of both ZEVAv and ZEVAm+  is the use of "non-wettable" nozzles. The advantage of this technology is that you do not have to maintain the nozzles, which means that much less operator intervention is required. The flow of the solder through non-wettable nozzles is more like a traditional wave soldering machine. With the nozzle design, the tin can be pushed in a certain direction and the formation of solder shorts can be limited.  In addition, Soltec offers their patented Solder Drainage Conditioner (SDC), a smart hot nitrogen knife that can remove a solder bridge immediately after soldering.
ZEVAv, in addition to the multiple wave system, can also be equipped with a programmable solder pot with one nozzle. In this way, the machine can be used for both high volume and flexible soldering  in those cases where the ROI on a special wave-plate is too long and the cycle time is not critical.
Please contact us if you wish to learn more about these machines or unique soldering techniques.